Reminiscences - Sri Boken Ete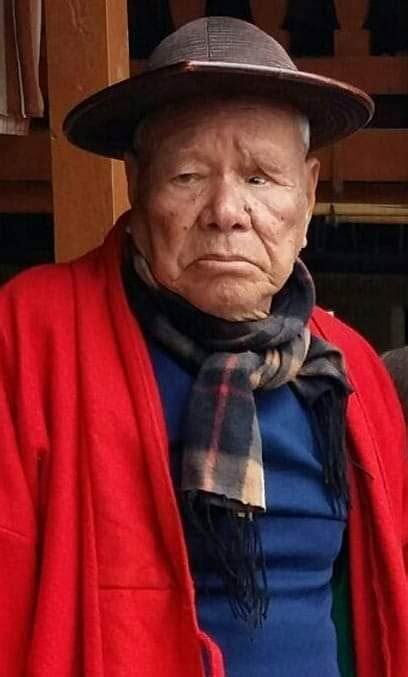 Sri Boken Ete meets the Hon'ble President, Dr. Sarvepalli Radhakrishnan in the course of their tour, they were naturally taken to meet the topmost dignitary of India, the President, who at that time happened to be Dr. Sarvepalli Radhakrishnan. The President met them
along with many others who had also come for the same purpose. The President could speak to only some of the visitors. When the time allocated for the interview was over and the secretary signaled Dr. Radhakrishnan about it, the later turned back, unceremoniously, to return to his chambers, without saying a word to these people from Arunachal Pradesh. Mr. Boken Ete, the leader of the party, was offended at Radhakrishnan's behavior. He took it as a personal affront, if not an insult to the dignity of the entire population of Arunachal. "Tehero! (Stop!)", he shouted in his broken, unpolished Hindi, remonstrating with the President for his lack of ordinary courtesy. He continued in his usual outspoken manner, so characteristic of the tribals, "Tum kaise admi ho? Ham itni dur se aye hein tumko dekhne ke liye; tum hi hamare Rashtrapati, hamare Neta, hamare Bhagavan samajhke. Lekin tumne ek baat bhi hamare sath nahi bola, sirph jo angreji jante hein unke sath baatchit karke aisa hi chale ja rahe ho, kaise admi ho tum? (What kind of a person are you? How ill-bred and ungracious! We have come from such a long distance, all the way from NEFA, to meet you, the head of our state and our great leader, regarding you as God Himself, and you are going away without speaking a word with us. You speak only with the people who knew English! How shameful of you!)."
All were stunned. The President himself, was taken aback and apologised, "You see, I am from the south, I do not know Hindi, so I could not speak with you…" "Oh?!" Mr. Boken rejoined,"Tum hindi nahi jante ho, Rashtrapati hokar?! Tab hamko kyon Assami me padhne ko, Hindi sikhne ko bolte ho? (Oh! You are the President of India and yet you do not know Hindi! Then why do you advise us to learn Assamese and Hindi?)" Those were the days when Assamese was being popularized in those regions as the medium of instruction, much to the resentment of the local people. The first important encounter of these people with Indian Government, was tragic, and the plan of the people who organized the tour to give a good impression of the Government had misfired.
The second meeting turned out to be even more disastrous. Mr. Boken Ete meets the Hon'ble Prime Minister, Smt Indira Gandhi They were then taken to see the Prime Minister Mrs. Indira Gandhi. Unlike Dr. Radhakrishnan, she was full of warmth in welcoming them. But she got off on the wrong foot at the very outset by raising the topic of Assamese as the medium of instruction, and by asking them to study Hindi along with it, it being the national language. Mr. Boken Ete was irritated, and angrily protested, again in his blunt manner: "Accha! Hamako Hindi sikhne ko bol rahe ho! Lekin tumhare bacchon ko kyon Doon School me bheja? Kyon unko England me bheja hai? Unko kitani hindi sikhayi hai? (Well! You are asking us to study assamese and hindi. But what have you done with your own children? You sent them to Doon School, and then on to England. Why?)". Mrs. Indira Gandhi was aghast at his sharp reaction, but had no answer to give. Mr. Boken's arguments were, indeed, unassailable. Sri Boken Ete's Wisdom Immediately on return, Mr. Boken Ete started telling people, shouting from housetops at the top of his voice: "Angreji sikho, nahi honese tumko kutte ki maphik dekhenge baahar jaane se! hindi bhi sikhna, kyonki vah hamara Rashtrabhasha hai aur uski bhi jarurat hein. Lekin angreji us-se bhi zyaada zarurat hai. (Learn English! Otherwise, you will be treated like a dog if you happen to step out of your region. Learn Hindi also because it is our national language. But English is far more essential.)" And in his address on the occasion of the inauguration of the Ramakrishna Mission, he did not forget to declare publicly:
'Ham Ramakrishna mission ko idhar hamko angreji sikhaane ke liye le aye hein. (We have brought The Ramakrishna Mission here to teach us English.) This, then, is the reason why the Ramakrishna Mission has stressed English education. And all through these years, our school has lived by its word, and delivered not just an English education, but far more than what was expected of it.
T. Swaminathan
Chief Election Commissioner of India, New Delhi

My wife and I visited the Ramakrishna Mission School Along, this afternoon spent an emotionally and spiritually satisfying few hours in the company of Swamiji, the Brahmacharis, the lay teachers and the children. The running of a school in the best traditions of the R. K. Mission in this area must have posed a special challenge to the organizers as this was perhaps one of the first efforts in a predominantly tribal area. The results achieved so far remarkable and moving. The discipline, enjoyment and total involvement that one notices in these very bright and obviously intelligent children is a tribute to the care and thought which have been bestowed on the organization and day to day running of the school. The interaction of the spiritual outlook of the Mission and the honesty and candor of these simple tribal people cannot but produce a crop of well-trained and well- disciplined leaders of men imbued with a sense of oneness and fellowship of men- we wish the institution all success and look forward to its growth and development ultimately into a full-blown degree and post graduate college.
24th Oct 1975
Prema Khandu Thungon
Chief Minister, Arunachal Pradesh
I had the pleasure to visit the R. k. Mission, Along on 19.12.75. I found the institution very clean and children cheerful. I was thrilled to listen to the chantings and recitations performed by the children. Swamiji and his staff were very hospitable and noble. I hope, the institution will improve further in every respect and shall produce good and useful citizens for the country.
19th Dec 1975
G.D. Khemani
Deputy Director, Cabinet Secretary, New Delhi
I had heard a lot about this institution from my colleagues at Delhi. I had therefore decided to visit this institution when I started from Delhi. I would call it not a school but a temple which imparts character building, secularism, national integration and sense of sacrifice. When teaching has become commercial all around, this institution stands as a distinct place catering for something which is needed for nation-building. I wish other trusts/institution take hint from this institution and mould their teachings to their respect of life.
29th April 1981
Omksar Singh
Director SSB, New Delhi
I had the privilege of visiting the school and being shown round by Swamiji who took as much trouble in showing and explaining every thing. To me however this was not really very necessary after seeing and hearing the morning prayer and national Anthem, there was hardly anything more that I needed to know about the institution. If the face of the man is the index of the man the prayer activity and programme are the index of the school. In fact nothing I needed more at this hour————- than the —————- of some values and virtues which can give strength and creditability to our lives and society. I wish and pray that this school shows light to more and more people – both young students and then parents and families.
12th April 1982
R. K. Solanki
S. R. O. (Education) Planning Commission.
I had the privilege of visiting the R. k. Mission School Along today. I found it to be an excellent institution in respect of inculcating the qualities of head and heart, the discipline among students, the dedication of the teachers in general and Swamiji in particular and physical faculties developed in the institution are exemplary. Such institutions need all encouragement by the state Government.
04th May 1982
S. S. Pandey
Director SSB
A very hearting visit to this institution. I was lucky to come just in time for the evening prayer meeting and I was delighted to see the young students being so helpful to the visitors who were coming for the first time. Later I spent some with the Swamiji of the institution and had a very interesting conversation with him. He and his team are engaged in a really wonderful work in this remote and sensitive part of the country.
03rd March 1983
Lt. Gen J K Puri
Director General Assam Rifle, Shillong (Meghalaya)
It has been a very rewarding experience for me and my wife to the wonderful institution. We were fortunate to attend the evening prayers and go through the exhilarating experience of listening to devotional songs so enthusiastically sung by the boys. R. K. Mission is doing great service to this region by imparting such sterling education to the tribal children. The Mission deserves one fullest compliments and one warm greetings to all the staff and students. Our best wishes to the school and to all the staff and the students.
21st April 1983
J N Singh
Maj Gen, HQ, Eastern Command Culcutta.
It has been a pleasure to visit the institution once again after a lapse of eight years or so. A few minutes in the calm atmosphere of the Ashram gives one a lot of peace. It is gratifying to see the growth of the institution and see the children been trained to become good students of model citizen of our country. I wish the institution the best of luck in their laudable endeavor.
05th May 1983
Dr. A. K. Samanta IPS
Director inspector general, CRPF, HQRS, Culatta.
A visit to the Ramakrishna Mission anywhere in the world is like a pilgrimage to me – Pilgrimage to the rediscovery of my own self, for sustenance of all the values I cherish. But what Ramakrishna Mission is doing in Arunachal Pradesh is something much greater and bigger than providing individual solace and peace. It is a social and national service, the real work of which is appreciated If we turn our eyes to the turmoiled state of affairs in other hill states of the North – East. Here, the sanyasis of R. K. Mission are trying independently to bring the people of these sequestered valleys to the main stream of Indian National life. The peace that prevails in Arunachal Pradesh now speaks eloquently of the success of the gentle sanyasis are gaining in their venture. No politician, no administrator can achieve this with such short span of time and with so much durability.
13th June 1983
BRIG S. C. Taxali
DDHE 4CORP
It is indeed very hearting to see that such good work is being done by the mission in remote area like Along. Today India needs badly such Missions not in one or two but in thousands. The missionary zeal with which each one is working be bound to improve the general character of the masses. The change will be brought by the young budding children. I had the pleasure to meet today. May God bless the mission and the good work it is doing for the upliftment of humanity in general and country in particular.
23rd June 1983
K. Samanyam
Dy. Branch Inspector, State Bank of India, 12.3.6 Suryavapet, Kakinada
I am highly moved by a visit of esteemed organization and very much inspired by the activities of the R. K. Mission and particularly lucky to participate in evening prayer whereby I got high spiritual energy.
10th Nov 1983
C. M. Malik
General Manager, N. F. Railway, Guwahati
I have been looking forward to this visit for a long time and by Sri Thakur's grace, it has been possible to visit today. I have no words to express my joy on seeing this institution and sincerely pray that many more such institutions come up in our motherland and every child comes up with the teachings of Sri Thakur and Swamiji so that all of us live in peace and harmony. I am so grateful to Rev. Swamiji for having shown us around and explained every aspect of this wonderful School in such a loving manner.
13th April 1984
Susantha Dutta
Advocate high court, Culcutta, Middle ton court (flat 304), H/2, Middleton Street, Calcutta-71
I had the proud privilege to visit the Ramakrishna Mission. It is extremely surprising, and it seems unbelievable that in such an inaccessible place such a beautiful institution with all modern facilities could be arranged for the students. I am also astonished to learn that the students who are in majority the local boys and girls are not only doing extremely well in their examinations but also are securing places in all India Merit Tests. One can easily understand the tremendous hard work and devotion the Swamijis had to exert to bring all round success of such Institution. I really feel that the Swamijis who are here are trying to give practical demonstration of Swami Vivekananda's dictum – ' service to men is service to God'. I hope other institutions should follow such discipline, cleanliness and efficiency.
06th Oct 1984
M. D. Menon
C/o Deputy Commissioner, Dibrugarh, Assam
It was a short exposure to the varied activities of the R. K. Mission School; I was not only impressed but overcome, there is so much goodness in human life around us, this school apparently teaches its words to elicit the nectar out of it and emerge in the final outcome as good human beings. I shall make it a point to have a more detailed exposure as and when the opportunity permits. With gratitude.
Brig Vinod Uppal
Deputy Director General Assam Rifles Shillong
My wife and I visited the RKM School today and were honored by an assembly in the morning by Swamiji, his staff and the wonderful children of this excellent Institution. To say the least, the school is run in an exemplary manner by highly dedicated, honest and qualified staff who are ably guided and directed by Swamiji. What strikes one on immediately entering the campus is the air of discipline and orderliness which is so essential and conducive to learning. The students are highly disciplined, polite and neat in their appearance and habits. The other aspect which is highly praiseworthy is the through sense of dedication and professional competence amongst the entire staff, whether teaching or administrative. It is very heartening to see that there are some people in this world who are doing their job so well and unselfishly. They derive satisfaction only from seeing their students grow and reach great heights in life. I wish the R K M school, Along and through it the complete of network of RKM schools all over our country, a great and prosperous future and all my good wishes in the achievement of their noble aims.
K. E. Ayyan
Dept. Surveyor of Works, P.W.D, Itanagar.
It was a pleasing experience to go round the Ramakrishna Mission School giving a most salubrious atmosphere to a student to grow up in the most conducive atmosphere. Swami Gautamanandaji explained the various activities of the school. May Almighty shower his blessings for the institute to grow further.
Catom Bam
D. C. West Siang
This is my first visit to the school. This school is in reputation with the legend and reputation of the R. k. Mission anywhere in the world. Keep it up.
22nd June 1986
B. K. Saha
1 GP, CRPF, Culcatta.
I had the privilege of attending the evening prayer here today. It was indeed a great experience. This institution has lived up to the great traditions of R. k. Mission and is bound to grow in the years to come. No other organization could render service to the community to the extent this community is doing. I was touched by the kindness and hospitality of the Swamiji. I wish him and the school all happiness and prosperity.
11 Nov 1986
Wajahat Kabir

It is always a great pleasure to get away from the routine and spend some time with the Swamiji, monks and the children. We feel so much at home. Today we planted a lot of trees, Orange.
15 April 1981
S. K. Gupta
Divine rhythm
Spiritual hymns
Silence emerges from the depth of the roaring ocean
Surrounded by the echoing hills situated on serene dales
See the emergence of New Arunachal.
The beautiful, the powerful, the moral, a strong youth
A beautiful carving
A shape so supreme
Tomorrow is secure
In the hands of these children!
3 March 1983
(K. S.BAIDWAN) IAS
DEVELOPMENT COMMISSIONER
ARUNACHAL PRADESH.
13th May 1983
Today I had the much associated opportunity of visiting this remarkable institution. Indeed it was a wonderful experience. The institution is playing the key role in the over-all development of the area. I have no doubt that the comprehensive education being imparted here will go a long way in promoting economic growth and national integration. They should also now start laying emphasis on development of entrepreneurial skills among the students so that the new generation is able to avail of the facilities and in continues being offered by the Govt. for self employment. I wish them all success.

13 May 1983
Bhagawan Sahar
Advocate High Court
10 Band Road Allahabad
&
Smt. Uma Sahai
Principal
Chacha Nehru Bal Mandir
Allahabad.
An institution with dedication imparting education to the tribals with an inspiration in them. Some work seen in the electronic laboratory of small children shows how these boys are picking up with this world. Discipline and maintenance of educational standards is really worth praising.
Mukut Mithi
Former Chief Minister
Arunachal Pradesh.
I am always proud to be a proud to be a product of Ramakrishna Mission. Ramakrishna Mission has greatly contributed to the progress of Arunachal Pradesh through Along, Narottam Schools and hospital at Itanagar. I cherish to see more establishments coming up in near future. I assure all possible help from Arunachal Government.
I wish all the good luck for all endeavors that Ramakrishna Mission has taken for the benefit of the people Arunachal Pradesh especially in Man – Making.
13 Feb 1999
Sanjay Lhader
Secretary Education
Govt. of A.P
It is a beautiful institution and it is inspiring to see people dedicatedly working for a relief, for a cause and in the service of mankind. The atmosphere is very peaceful and serene. I can only hope & pray that institutions like this flourish and increase in number so that a larger number of children can partake of this opportunity, of learning. Thank you for the hospitality and kindness shown to us.
12 Nov 1999